Powering up the Protein Market
From plant-based innovation to protein-packed bugs, here's what's hot and on the horizon in the protein category.
By: Rachel Appleton | August 22, 2019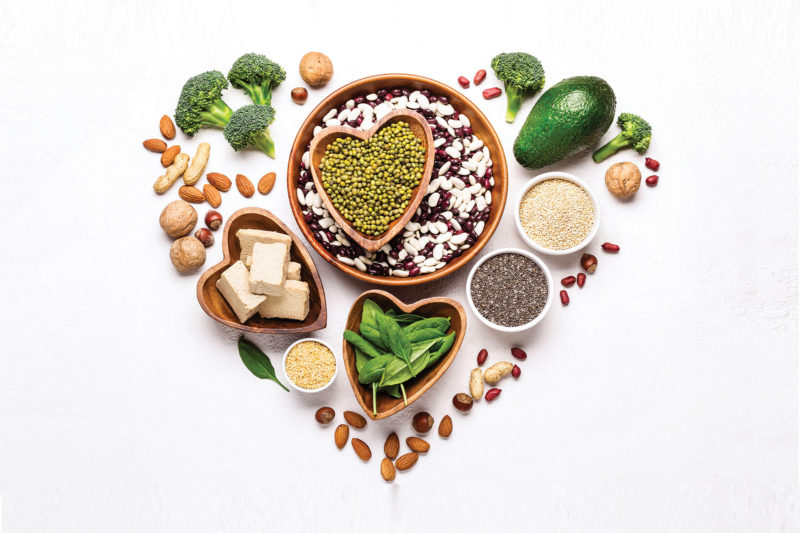 Move over meat…more Americans are branching out and opting for "flexitarian" lifestyles, eating both traditional meat and plant-based alternatives—and, according to a report from data analytics company Nielsen, these consumers are ushering in a new area of protein consumption (1). The Nielsen report, titled "The F Word: Flexitarian is Not a Curse to the Meat Industry," reveals that 21.6% of U.S. households are purchasing meat alternatives (up 1.6% from last year) and protein, regardless of type, accounts for nearly $190 billion in U.S. sales. The experts at Nielsen offer this advice: "Having both a broad and detailed lens is table stakes for brands and retailers, as growth diverges across different consumer values and need states. And considering consumer disloyalty is the new normal, innovative and unique applications of proteins will win the battle for consumer wallet space."
Here, a look at the innovative and unique, and ways to win in the evolving market.
Now Trending on Shelves
One major trend is plant-based meats that mimic animal proteins in such a way that retailers are comfortable placing these products in the meat department, right next to their fresh meats, according to Danny O'Malley, founder of Before the Butcher. "We will see more plant-based meats," he predicts, "like burgers, grounds and sausages, occupying the space in the protein department as the year unfolds."
Over the past few years, Jimbo's Naturally, a natural foods grocer in San Diego County, CA, has added significant space—even tripling the amount in certain categories—dedicated to protein-rich products, says Bryan Reed, the store's regional grocery buyer. Some of the categories where space has increased the most, Reed says, are snacks like meat- and plant-based jerky, plant-based milks and nutrition bars. And across the country in Massachusetts, Joyce Faiola, a retail and restaurant consultant who has done work with Groton-based The Natural Market, has noticed how whey and plant proteins have been joined by new proteins that are paleo friendly, such as collagen-based proteins, fermented foods proteins and hemp proteins.
Many consumers are shifting to flexitarianism, thanks to the increasing popularity of alt meats. Sadrah Schadel, co-founder and chief creative officer of No Evil Foods, acknowledges, "While there's no doubt that the high profile of some of the new vegan burgers to the market have raised overall interest in the category, it has also heightened consumer suspicion about the ingredients they're made of and we're also seeing a push for the inclusion of simple, down-to-earth ingredients." Schadel says the company's Comrade Cluck 'No Chicken' is a plant-based chicken made with 6 ingredients and water, and has a shreddy texture and neutral flavor that accepts marinades and sauces well.
Also speaking to the appeal of simplicity, Larry Praeger, CEO of Dr. Praeger's Sensible Foods, says, "An ongoing trend is clean ingredient labels featuring whole vegetables and grains. It's becoming increasingly important for health- conscious shoppers to see recognizable ingredients on product labels. Consumers are also seeking out trusted third-party certifications on packages: recognizable symbols that indicate Non-GMO, Gluten-Free, Vegan, Kosher and others allow shoppers, especially those with special dietary needs, to feel confident in what they're buying." Dr. Praeger's offers a line of seven pure plant protein items, and this summer launched the "Perfect Burger," a meat-alternative patty that looks, cooks, and tastes like meat and is infused with four varieties of veggies.
Helping to fuel the alt-meat trend is Hydrosol, a Germany-based supplier offering stabilizing and texturizing systems for vegetarian and vegan alternatives to meat and dairy, with products based largely on proteins from plants like peas, potatoes and fava beans. "With our all-in compounds for meat alternatives, manufacturers can use standard production equipment to make vegan burger patties and meatballs, as well as meatless nuggets and schnitzel," says Florian Bark, product manager at Hydrosol. "We also offer functional systems for making vegan cold cuts. In addition to fermented desserts, ice cream, and drinks, we make vegan cream cheese alternatives with an appealingly smooth, creamy consistency and authentic flavor."
Ingredients Gaining Mass Appeal
At this year's Plant Based World Conference & Expo, discussions focused on how every biome around the world has a plant that produces protein. Nancy Trent, reporting on the event for WholeFoods (read her blog, "The Plant Migration is Real" here), shared a few protein innovations, including Clean Machine, which uses ingredients such as Lentein, Ahiflower and BCAA in its plant-based protein products; and Good Catch, a tuna- alternative grown from plants (3).
"The newest categories of plant-based proteins particularly taking off on labels are concentrated from seeds," says David Janow, CEO and founder of Axiom Foods. "Formulators are learning that Hemp protein is THC-free (<20ppm), can be made in 55%+ protein concentrations, and doesn't have to look and taste like dirt thanks to breakthroughs in making it neutral in color and flavor which is more similar to pea protein. Two other hot plant proteins are pumpkin and sunflower proteins. These are very consumer-friendly and don't require much education as they are perceived as a good source of protein, good tasting so don't need flavor masking, have nice functionality, and can be available in raw form for specialized vegan products."
Reed Allen, who holds the nifty title of "Chief Ninja" at R.E.D.D., notes that protein enthusiasts love products that are healthy, plant-based, low in sugar, contain an ample amount of protein, taste great, and have attractive aesthetics. R.E.D.D. makes plant-based bars, including tasty treats made with a protein blend of pea, hemp and pumpkin seed protein. Allen adds that pea protein helps regulate blood sugar, improves heart health and boosts satiety, while pumpkin seed and hemp protein are filled with omega-3s and -6s.
For brands interested in sunflower and pea plant protein, Hydrosol recently launched Sundogs, an all-in-one compound used for vegetarian or vegan sausages, says Bark. One health advantage, Bark adds, is that the plant-based compound contains no cholesterol. Plus, sunflowers from domestic or regional sources have small climate and resource footprints, and are also non-GMO.
"Regarding infrastructure," Janow says, "there are a lot more pea protein factories coming online in North America. We still need to work with farmers because organic pea crops, and crops that do not have wheat/gluten nor soy cross-contamination, are not keeping up. Axiom Foods is regularly asked if pea protein prices are going to come down, but it's largely not in our control. The reality is that farmers need to compete and be profitable, so they need to determine if they make more on soy versus pea protein crops. If farmers choose to plant more pea protein, then soy protein prices will go up."
Another up-and-coming trend in protein: unique flavor profiles, says Dan Staackmann, founder and president of Upton's Naturals. "Meat alternatives like seitan absorb flavors easily, so you can really get creative when it comes to seasonings. Upton's Naturals pre-seasoned Seitan comes in familiar flavors like chorizo, bacon and Italian seasoned. Our new lineup of Jerky Bites feature complex, globally inspired, tropical varieties like Smoky Original, Tarragon Ginger Lime, Tamarind Pepperoni, and Pineapple Pink Peppercorn to deliver unique and inspiring flavors that today's consumers crave."
Innovations on Familiar Favorites
At MGP Ingredients, which supplies plant proteins, top protein-rich offerings fall into three categories: textured wheat protein, wheat protein isolates, and wheat protein concentrates. Regarding textured wheat protein, Ody Maningat, vice president of R&D and chief science officer, and Michael Buttshaw, vice president of ingredients sales & marketing at MGP, point to a consumer preference study conducted at Benedictine College, in which subjects compared beef-flavored vegetarian meatballs made with textured soy concentrate to meatballs made with a 50/50 blend of MGP's TruTex textured wheat protein and textured soy concentrate. The result: 66% of the volunteers preferred the beef- flavored vegetarian meatballs made with the 50/50 blend over that of textured soy concentrate. Maningat and Buttshaw explain that TruTex textured wheat protein products were developed principally for use in meat extension (blended products) and vegan/vegetarian applications.
Another always-popular protein source is nuts, and consumers can get a delicious dose from Once Again Nut Butter's organic and natural peanut and almond butters, which are packed with protein and help to increase metabolism and prevent swings in blood sugar. "Our products are made with pure and simple ingredients, so there's nothing to interfere with the natural nutritional benefits of these powerhouse nuts," says Gael Orr, marketing communication and PR manager. "We also make cashew and seed butters, which provide a wonderful balance of protein, healthy fats, vitamins and minerals."
The specialists at Blue Diamond released an almond protein powder, and as Jeff Smith, director of marketing at Blue Diamond Almonds Global Ingredients Division explains, almonds also serve as an excellent source of fiber and minerals.
Another delicious option in nuts: Sunshine Nut Company offers cashews grown, roasted and packaged in Mozambique, with varieties like Handful of Herbs and Spark of Spices with subtle added kick.
Trends in the Meat Market
Leaner proteins that are just as flavorful as their fattier counterparts are increasing in popularity, according to Heidi Diestel, 4th generation turkey farmer at Diestel Family Ranch, Sonora, CA, which is committed to regenerative agriculture to reverse the negative effects of farming by helping to rebuild the soil and ­restore biodiversity (for more on Regen Ag, go here). "Premium products like Diestel's Turkey Bacon and Turkey Franks offer a lighter, yet delicious take on two classic foods," Diestel says. "Made from butcher-quality, whole-muscle cuts, both products are smoked over real hardwood to bring out the bird's real turkey taste and premium texture. Our Uncured Turkey Bacon is 100% sugar free and paleo compliant, while the minimally processed, kid-friendly Uncured Turkey Franks tout a clean, easy-to-pronounce ingredient list of turkey and spices. They also are low in fat and calories and completely free of antibiotics, nitrates, nitrites, gluten and carrageenans."
Consumers are thinking about sustainability, and the treatment of animals is a priority for many. This year, The Happy Egg Company released Free Range Blue & Brown Heritage Breed Eggs, which have a rich, plump amber yolk, says CEO Dan Arnsperger. These premium yolks, he says, are a result of the nutrient-rich feed and the fact that Happy Egg hens are provided with over 8 acres of pasture to roam.
Also focused on grass-fed is DNX Foods, maker of grass-fed protein bars. "Many of our bars are made with grass-fed beef, which is higher in nutrients, antioxidants, vitamins, and CLAs than conventional beef, and it contains about 50% more omega-3 fatty acids than grain-fed beef," says John Rooney, founder of DNX Foods. "The super-premium, whole-food ingredients used in DNX Bars also make them high in protein, omega-3, vitamin B12 and prebiotics. DNX's Grass-Fed Beef & Uncured Bacon Jalapeño Bar is fortified with grass-fed beef collagen, which is the gold-standard of collagen known to reduce joint pain, decrease inflammation, and protect tendons, ligaments and bones."
Protein to Go
"People are constantly on the go, so we're seeing a big trend toward healthy, portable food options that can help maintain a healthy diet even on the busiest of days," says Rooney. "Offering a variety of easy-to-eat, whole-food protein options can help retailers attract these health-conscious consumers, many of whom don't have time to sit down to enjoy a balanced meal. In addition, offering products with unique flavor combinations can prevent customers from getting fatigued and keep them coming back for more." DNX Bars feature protein from grass-fed beef or bison or free-range chicken, and are free of artificial preservatives and ingredients, antibiotics, hormones, GMOs, dairy, soy, gluten, MSG, and added sugars.
Also offering convenience, LesserEvil Snacks Egg White Curls is a crunchy snack with the same amount of protein per serving of an egg, plus they are certified humane, Non-GMO Project Verified and cage-free. The curls are also grain free, which Charles Coristine, CEO, says is a big trend right now. "Let's face it," Coristine adds, "salty snacks are not vegetables in terms of benefits, so our focus is giving our customers the cleanest and best ingredients we can. We use the best oils—usually organic extra virgin coconut oil, ghee, avocado oil—in lieu of vegetable oils. We use Himalayan salt, which we think is a lot cleaner than refined salts. And then as a base for our products, we use organic cassava flour, organic popcorn and egg whites. All have solid nutritional profiles."
And perfect for the kiddos at back-to-school time, SunButter Creamy Cups are a sunflower butter snack safe for people with peanut and tree nut allergies, with 7 grams of protein plus vitamins and minerals.
Catering to the Flexitarians and the Veg-Curious
Throw out the old way of thinking about the category and who's buying from it, suggests Schadel, who adds that vegan food is no longer reserved for the ultra-mission aligned or ultra-healthy consumer. Diversify your methods and freshen up your approach to reach a broader range of veg-curious consumers.
For stores with competing brands, keep alternative "adjacent" products next to each other and in clear sight, suggests Kay Abadee, director of marketing at Axiom Foods. "Flexitarians are the largest consumer population. They don't exclude animal-based products but they want to increase their plant-based consumption, so when given a choice and the experience being equal, they will more likely choose the plant-based option. They won't necessarily go shop a Vegan section but they'll often choose plant-based if sitting adjacent to the most popular animal-based products."
When merchandising and marketing organic and natural meat, Diestel advises, "retailers should highlight the farms and share what they're doing to raise healthy animals and support the environment. With many consumers looking for organic and natural, antibiotic-free meats, retailers should showcase meat products that are clearly labeled with these important, better-for-you attributes."
Dr. Praeger's launched a tool to assist consumers in their search for healthy products, like plant-based protein. VeggieTracker.com, a web-based app, helps people learn how to increase vegetable intake to three cups per day. Veggie Tracker includes a free online tracker, downloadable eBook, opportunities for prizes and more to help people build better eating habits and live a veggie-full life.
The Future of Protein
"In the years to come, plant-based protein products will closer replicate the animal-based products that have been the standard," says Rick Ray, Axiom Foods director food technology and sales. "This includes meat replacement burgers, hot dogs, chicken, and seafood, which are coming closer and closer to replicating the texture and chewing experience; dairy replacers which have been missing the protein content, lower sugar options, and need to be cost effective; gluten-free bakery will better replicate the organoleptic taste, smell and visual experience of wheat-based bakery, including a moist texture and browned (maillard) outer appearance; plus the easy mixing, creamy texture of whey protein." The key, he says, is that food scientists need to work to learn which proteins work best in which applications, and then food technology experts need to continue to develop function-specific plant protein options, to meet specific needs, while building the factory infrastructure to support commercial quantities, and agriculture needs to adapt by planting more of those needed crops.
Diestel also points out that as environmental concerns continue to be at the forefront of many shoppers' minds, we'll continue to see a trend toward sustainably raised meat produced by farmers who take great care in pursuing environmentally conscious practices. "We're proud to say that this has always been a priority for the Diestel family, and our ranch is committed to regenerative agriculture and holistic farming practices that reverse the negative effects of farming by helping to rebuild the soil and restore biodiversity."
Protein is the cornerstone for all kinds of 'healthy' food and snacks, says Faiola. "Teens have embraced healthy eating and many are label readers who have decided to severely limit sugar consumption as well as fast food. There is still a long way to go before mass marketers, drug store chains, gas stations, C-stores and other retailers get on the whole foods train to provide healthier snack and beverage options." And that means in-the-know natural products retailers have an advantage. WF
Article originally published in WholeFoods Magazine, 2019.
---
References
1) Stuart M. Phillips, "Current Concepts and Unresolved Questions in Dietary Protein Requirements and Supplements in Adults," Frontiers in Nutrition, 2017(4). www.frontiersin.org/articles/10.3389/fnut.2017.00013/full.
2) CPG, FMGG & Retail, "Plant-Based Food Options Are Sprouting Growth for Retailers," Nielsen.com. Posted 6/13/18. Accessed 7/18/19. www.nielsen.com/us/en/insights/news/2018/plant-based-food-options-are-sprouting-growth-for-retailers.html
3) Meticulous Research, "Plant-Based Protein Market – Global Opportunity Analysis and Industry Forecast 2017-2022," meticulousresearch.com. Posted 10/17. Accessed 7/17/19. www.meticulousresearch.com/product/plant-based-protein-market-2017-2022/?utm_source=heraldkeeper.com&utm_medium=press%20release.
4) CPG, FMGG & Retail, "The F Word: Flexitarian is Not a Curse to the Meat Industry," Nielsen.com. Posted  07/25/2019,  Accessed 7/25/19. www.nielsen.com/us/en/insights/article/2019/the-f-word-flexitarian-is-not-a-curse-to-the-meat-industry.
5) Ros, Emilio. "Health benefits of nut consumption," Nutrients. 2(7). 652-82. www.ncbi.nlm.nih.gov/pmc/articles/PMC3257681.
6) Impossible Foods Staff, "Impossible Foods 2017 Sustainability Report," Impossiblefoods.com, Posted 5/25/17, Accessed 7/17/19. www.impossiblefoods.app.box.com/s/edwcfyvojzsvzn5d633dxt4c4ehyzqq3.
7) Angela Moon, Joshua Franklin, "Exclusive: Impossible Foods raises $300 million with investors eager for bite of meatless burgers," Reuters.com. Posted 5/13/19. Accessed 7/17/19. www.reuters.com/article/us-impossible-foods-fundraising-exclusiv/exclusive-impossible-foods-raises-300-million-with-investors-eager-for-bite-of-meatless-burgers-idUSKCN1SJ0YK