FOR IMMEDIATE RELEASE
Press contacts:
Axiom Foods, Mariel Enochs / Alyson Dutch
mariel@bdpr.com, alyson@bdpr.com,310.456.7151
Hendersonville Co-op:
Arrion Kitchen
arrionkitchen@yahoo.com, 828.693.0505 
PLANT-BASED PRODUCTS GRACE END CAPS AS U.S. RETAILERS COMPETE IN PLANTPROTEINMONTH.COM'S EDUCATIONAL SHELF DISPLAY CONTEST SPONSORED BY AXIOM FOODS
Hendersonville Co-Op Awarded Best Display and Cash Prize
Vitamin Angels Benefits
(Marina del Rey, CA June 15, 2017) During Plant Protein Month in April 2017, U.S. retailers competed in a shelf display contest to educate consumers and co-promote their plant protein-infused products. South Carolina's Hendersonville Co-Op was awarded with Best Display and $1,000.  The contest was sponsored by Axiom Foods, the largest maker of plant protein ingredients in the U.S. Vitamin Angels, dedicated to supplementing undernourished children worldwide with Vitamin A, received a $10,000 donation as part of the plant protein fund
"We have always aimed to fill our shelves with products that consumers are demanding, and right now that is anything plant-based. This contest gave us a great platform to educate our customers about the fact that 95% of global protein sources are expected to come from plants by 2050."
Educational facts on the poster included:
Lists: Plants from which protein can be derived.

Predictions: Alphabet (Google) Executive Chairman, Eric Schmidt predicted: "plant protein is the #1 trend of the future."

Statistics: Food allergies affect millions of people and plant proteins are allergy-friendly.

Resources: Animal-based protein (whey) requires 6 times more water to produce than protein from plants.

Clinical trials: show that plant protein equals animal-based whey protein to build and maintain muscle.
"Wall Street analysts say that the plant-based food industry is estimated at $3.5B," said Axiom Foods CEO, David Janow, "there is a powerful trend of M&A happening in this category with companies like Rudi's, Justin's, Enjoy Life and Gardeins on the stock exchange. Mainstream food makers are moving to the plant side. In March, the CEO of The Campbell Soup Company was the keynote at the Natural Products Expo. General Mills launched a venture arm which invested in Beyond Meat. The Kellogg Company invested $100 million into plant-based food brands. Three massive meat companies, Cargill, Hormel and Tyson, all are turning a cold shoulder to animal food production and investing in plant proteins. These are all signs of how important this trend is today."
About Axiom Foods: We are on the cutting edge of concentrating protein from plants. We're involved in clinical trials and education by sponsoring Plant Protein Month each April. We are affecting change in the global food supply, by bringing compassion to the food business and showing the world that animals are not necessary to build muscle. We're at the forefront of rice becoming the new wheat – and the new meat. Just ask CNBC.
About Vitamin Angels: Vitamin Angels helps at-risk populations in need, focusing on pregnant women, new mothers, and children under five, while gaining access to revolutionary vitamins and minerals. While reaching out to underserved communities across the U.S. and in more than 50 countries around the world, Vitamin Angels also has a four-star rating from Charity Navigator for Financial Health, Accountability and Transparency.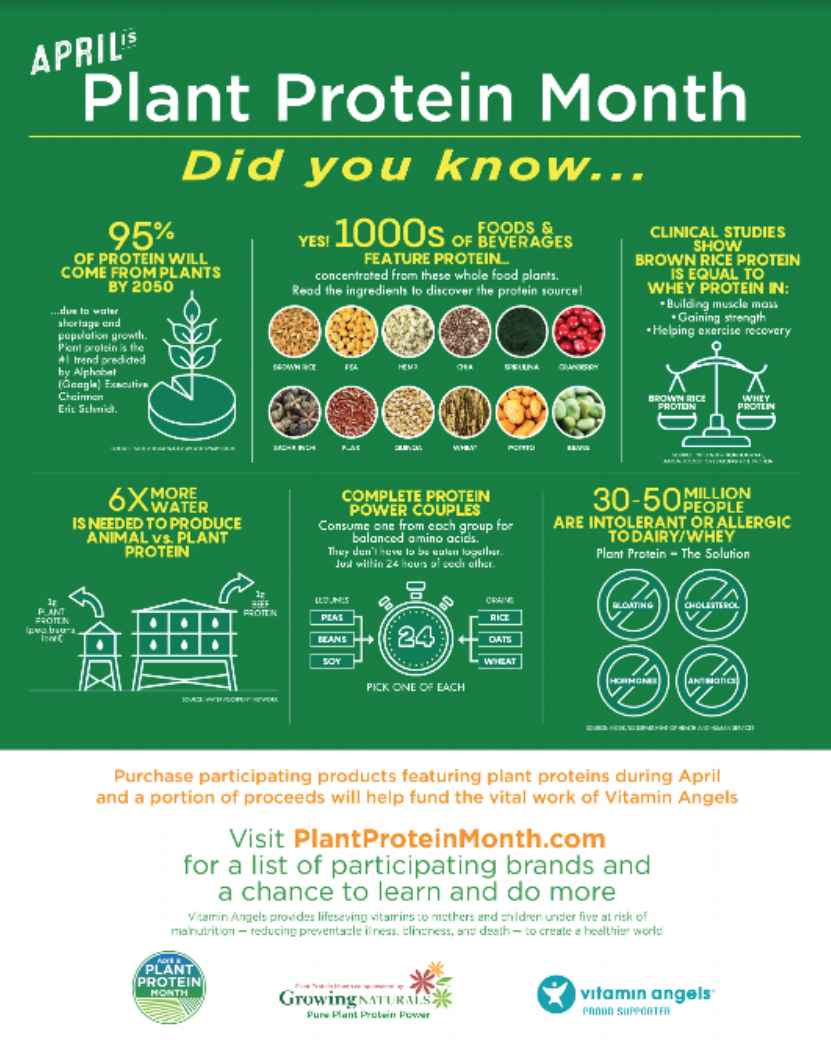 # # #