A unique allergen-friendly, whole grain dairy alternative ingredient, Oryz-O-Lait™ rice "milk" is produced from brown rice. Axiom's proprietary, all-natural production processes make Oryz-O-Lait available in powder form. It contains essentially all the protein,
oils, vitamins, fiber, and carbohydrates found in whole, unpolished brown rice.
When blended with Oryzatein® Brown Rice Protein, it boasts similar nutritional benefits to dairy milk.
• Vegan alternative to dairy milk
• Now instant for quicker mixing
• Allergen-friendly
• Exceptionally dispersible in water
• All natural and non-GMO
• Consistent and adequate supply
• Economically efficient
• Contributes to a clean label
• Naturally cholesterol-free
• Complex carbohydrate digested slowly, easily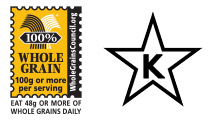 AvenOlait™ is nutritionally similar to whole, uncooked oats containing many of the same essential vitamins and minerals like folic acid, potassium, phosphorous, and magnesium. Oat "milk" also contains complex carbohydrates for consistent/stable energy and plenty of insoluble and soluble fibers known to aid in satiety and promote a healthy digestive and cardiovascular system. The protein in AvenOlait is a great alternative for those with soy or dairy allergies or those with vegetarian or vegan diets.
• Vegan alternative to soy & dairy milk
• Exceptionally dispersible in water
• Digested slowly and easily
• All natural and non-GMO
• Consistent and adequate supply
• Economically efficient
• Contributes to a clean label
• Ease of use
• Made in the U.S.A.
• No contamination with growth hormones (rbST/bGH), anabolic steroids or antibiotics